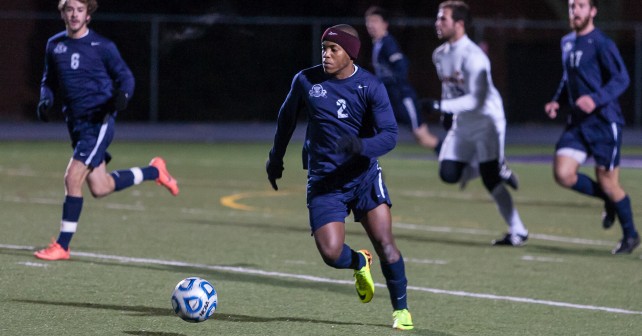 The Westminster men's soccer team closed out their 2013 season with a 2-0 loss to host Loras College in the Sectionals Round of the NCAA Division III Tournament. The Westminster Blue Jays recorded program history after winning their conference's tournament and advancing past the first round in the NCAA Tournament. The team was the first Westminster program to make it past the opening round of the Tournament.
"It was a good game, but it obviously didn't go as well as we thought," stated senior forward RJ Moore. "Everybody on this team gave their heart and soul and we hoped we could of gotten a win."
"I'm so proud of everything we did on the field, but it is always sad to lose. It was disappointing, but we all worked hard. We gave it our best shot," senior midfielder Michael McDonough threw in.
The Loras Duhawks scored the first goal in the 37th minute, and the Blue Jays headed into halftime trailing 1-0. The Duhawks controlled the possession for  most of the first half, leaving the Blue Jays with only one shot on goal for the half by McDonough. Three other shots just missed the net for the Blue Jays. Freshman keeper Raul Belman Romero finished the half with 5 saves.
The Blue Jays battled hard in the second half, knowing they had to score in order to move on in the Tournament. Nine shots were taken by the Blue Jays, but only two of them had to be saved by the goalkeeper. The Duhawks put the final touch on the game with a goal in the 87th minute.
"We battled the entire time. Loras is a good team and they had some horses up front. They played 23 or 24 guys and there wasn't any drop off in their play, but our guys came out and we battled and played with them," stated Head Coach Andrew Bordelon. "The result didn't go our way, but we're proud of the performance and we're proud of the season. Now we set the standard for what to expect and what to work for in the following years."
The team finished with a 13-9-1 record for the season after tying for first in their conference followed by winning the conference tournament, earning the program's second NCAA berth.
"I'm very proud of this team. We made history with Westminster. I'm thrilled that I got to play on this team and how well we did this year. The program is looking to go in a good direction with the coach," commented McDonough.
When speaking about the season as a whole, Moore commented "we've been where no Westminster team has been before so that is a really good feeling. It was great to be a part of the team and I am very proud of everyone."
The Blue Jays will lose 10 seniors to graduation this year.
"I want to say thank you to all the seniors. We are going to miss all of them and we know this program started to get turned around because of them," stated Coach Bordelon. "Now I'm excited with the players we have returning to get started for next year."