St. Louis Cardinals Caravan Visits Westminster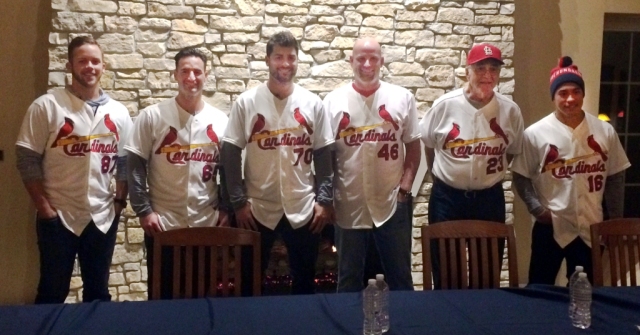 Picture above provided by Westminster Columns.
On Saturday, January 16th, the St. Louis Cardinals Caravan brought team members Kolten Wong, Tyler Lyons, Dean Anna, Jacob Wilson, and Kyle McClellan (above) to Westminster's campus for a Q and A with the public and to meet fans. A few lucky students who won a Westminster social media contest also had the privilege of meeting the players before the main event in the VIP room where interviews were given to local media, including Westminster Columns writer Jim Malven '16.
Nearly 350 people were in attendance for the main event and Cardinals raffle tickets raised $799.00 to fund Westminster's Student Athletic Advisory committee, which sponsors educational and promotional programming.
Westminster would like to thank Board of Trustees member, Brock Ayers '82, for making the initial request for the Caravan to visit the college.
Looking forward, be sure to mark your calendar for the annual Westminster Night at Busch Stadium! This year's event will be on May 19th and tickets will be $12.00 each.
See photos from the event and VIP meet-and-greet below.