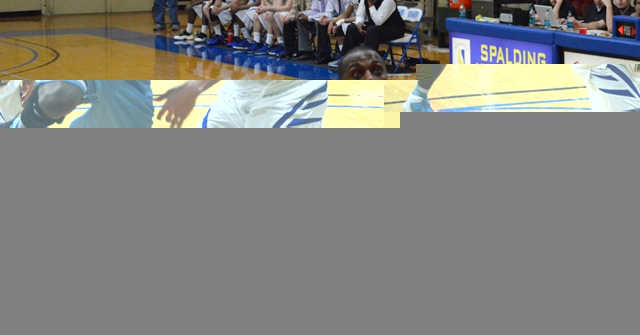 The Westminster men's basketball season came to a close Thursday evening as the Blue Jays fell 64-54 to Spalding University in the semifinal round of the St. Louis Intercollegiate Athletic Conference (SLIAC) Tournament. The Blue Jays close out their season with a 14-12 overall record and an 11-7 conference record.
Throughout the first eight minutes of play, the Blue Jays stayed neck-and-neck with the Spalding Golden Eagles. The game was tied for the sixth time with a good free throw by junior Verdis Lee Jr. with 12:11 to go in the first.
The Golden Eagles hit a 5-0 run to take the 19-14 lead, but senior Jordan Jones hit two layups and a free throw, along with a free throw by senior Travis Cleveland, to take back the lead, 20-19.
The lead changed four more times before heading into the final minute of the first half. The Blue Jays were up by one, but the Golden Eagles hit a layup with four seconds left, leaving the Blue Jays down by one heading into halftime, 30-29.
The Blue Jays held the close lead for the first four minutes of the second half, but the Golden Eagles hit two layups and a three to take a seven point lead, 44-37. Junior Brandon Moore drained a three and a layup to cut the deficit to two points, but the Golden Eagles pulled their lead to six points with 9:36 remaining in the game.
Two more threes by Moore and a layup by Lee Jr. gave the Blue Jays the 52-50 lead, but the Golden Eagles tied the game up at 54 with 4:31 left on the clock. They went on to score 10 unanswered points in the final four minutes, handing the Blue Jays the 64-54 loss.
The Blue Jays shot 41.3 percent from the field. Moore led the game with 15 points and Lee Jr. added in 12 points. Cleveland pulled down 7 boards, and senior Joe James and Jones each finished with 5 assists.
Prior to the second SLIAC semifinal game, the conference announced the 2013-14 award winners.
Senior Joe James was named to the SLIAC All-Conference First Team. James shot 44.4 percent from the field this season and was ranked second on the team in points with 376. Throughout the season, James ranked in the top 10 for his free throw percentage, ending the season with an 87.2 percentage. He led the team in assists and steals.
Juniors Verdis Lee Jr. and Brandon Moore were named to the SLIAC All-Conference Second Team. James and Lee Jr. were named to the SLIAC All-Defensive Team.
Each SLIAC school selects a member of the basketball team that has continually demonstrated good sportsmanship throughout the season. Senior Jordan Jones was selected to the SLIAC All-Sportsmanship Team for Westminster College.
Westminster was also awarded the SLIAC Sportsmanship Award.