Order of Kappa Alpha Bestows Highest Individual Honor Upon Westminster Alumnus Jim Schmuck '72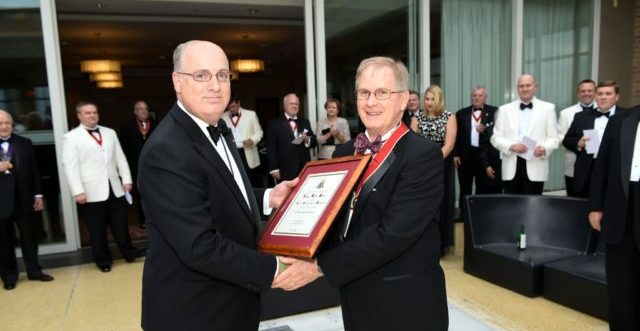 Above, Kappa Alpha Knight Commander Darren S. Kay, Westminster College Class of 1991, congratulates fellow Westminster alumnus Jim Schmuck '72 (left) on receiving the Knight Commander's Accolade.
Alumnus James M. "Jim" Schmuck, Class of 1972, from Wildwood, MO, received the highest individual honor an alumnus can receive from the national Kappa Alpha Order on Saturday, August 5.
Jim, a member of the Westminster Alpha Eta Chapter, was awarded the Knight Commander's Accolade at the 77th Convention and Brotherhood Weekend at the Hyatt Regency at the Arch in St. Louis. In over 49 years, this prestigious honor has only been conferred on 228 recipients.
The 40th Knight Commander, Darren S. Kay, Class of 1991, conferred the honor on Jim, who was accompanied by his wife Judy.
"I am pleased and humbled to receive such a prestigious award," Jim said. "The pleasure of the award is heightened by the fact that it was presented by fellow alumnus and Knight Commander Darren Kay."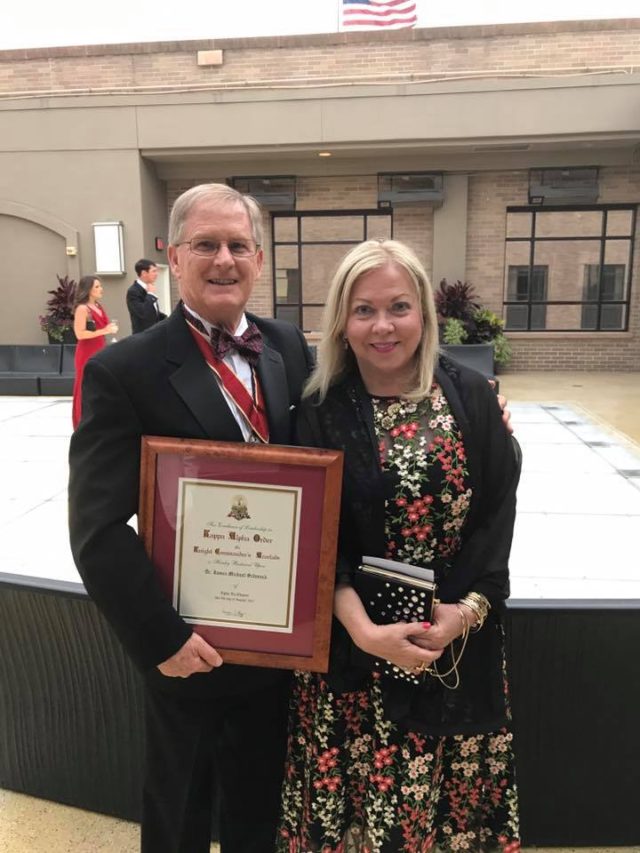 Originally established in 1967, the Knight Commander's Accolade recognizes excellence in leadership, dedication, and service to the Kappa Alpha Order.
From 2007-2015, Jim served as Commander of the Henry C. Chiles Province of Kappa Alpha with multiple chapters in his province receiving the Samuel Zenas Ammen and George C. Marshall Awards for Chapter Excellence. He is also a member of the Henry C. Chiles Province Court of Honor. In 2015 Jim was elected to the Executive Council at the Sesquicentennial Convention.
Jim also gives back to Westminster as a member of the National Churchill Museum Board of Governors and has served as Senior Fellow and Chairman of the Board of that organization. He helped to facilitate the merger of the National Churchill Museum with the Churchill Centre to form the International Churchill Society of North America. He now sits on the Advisory Board for the International Churchill Society.
Jim spent more than 33 years teaching English and communications at the high school level and was an adjunct professor at St. Louis University and the University of Missouri-St. Louis. He holds a Ph.D. in Higher Education Administration from St. Louis University.
He also was a head coach in cross country for 34 years and head coach for track and field for 29 years. During that period he coached numerous state champions and some Olympic qualifiers. He was named National Coach of the Year in Cross Country and elected to the Missouri Cross Country and Track Coaches Hall of Fame.