IT Project Showcase Offers Valuable Career Prep & Highlights Students' Top Teamwork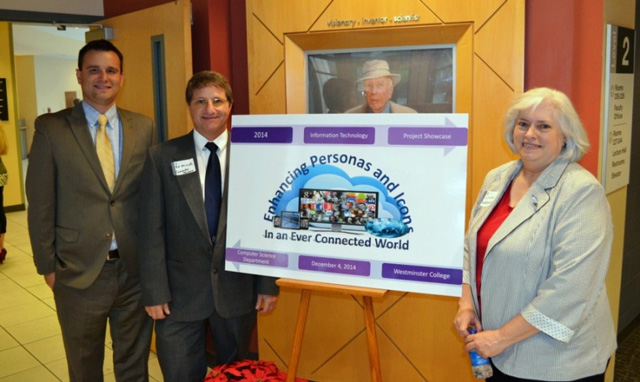 Above, Ryan Schlimpert, Class of 2002, Vice President of Business Process Management for MasterCard; Ed Mirielli, Chair of the Westminster College Computer Science Department; and Linda Webster, Professor, Computer Science Department, at the 2014 IT Showcase at Westminster.
In December, Westminster Information Technology students showcased the results of semester-long team projects through the 2014 Information Technology Project Showcase, an annual, conference-like public forum that allows teams of students to present their collaborative work and hone their presentation skills.
Upper level courses in Westminster IT degree programs utilize the problem-based, project-centered approach to learning, helping students cultivate valuable career skills in critical thinking, problem solving, and communication. Project proposals, reports, and presentations develop students professional communication skills, both written and verbal. The importance of being able to effectively communicate with people of diverse backgrounds and abilities is emphasized. Students work on projects as part of a project team, providing further opportunities for interpersonal and professional growth.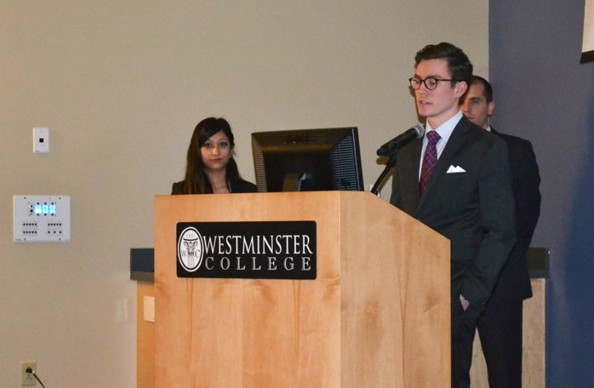 Above, George Carr '14 makes his presentation with team members Ian Steffan and Yasna Rajkarnikar.
Software and systems design and development projects often are not limited to only one class, but may integrate with other classes or even other semesters. This integrated approach to systems and software engineering project development provides the student an authentic learning opportunity to experience much more of the entire systems development life cycle and view software and systems development from multiple perspectives.
Sue Brownawell, Class of 2010, was an IT Showcase participant while a Westminster student. Today, she serves as Information Technology Specialist for the State of Missouri, Office of Administration, Information Technology Services Division, at the Department of Mental Health. As an alumna, she returns to enjoy the Showcase each year. She says the event gives her the opportunity to visit the IT department and faculty and to network with other area professionals.
"But mostly I enjoy interacting with the students," Brownawell says. "I love learning about the problems the students have tackled and the solutions they've devised, but mostly I enjoy seeing and sharing their pride in their accomplishments."
She says her experience as a student in the Showcase was both demanding and incredibly rewarding.
"Although the work is a challenge, the professors provide a guided learning experience that sets the student teams up for success," says Brownawell. "The Showcase project was an attention-getter on my resume, and the skills I learned from the experience continue to help me be a valuable performer at work."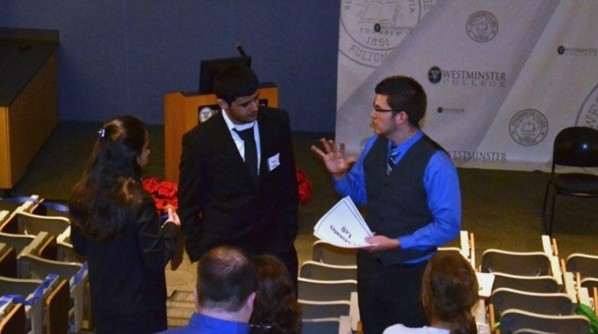 Above, Adam Beamer '15 (right) talks with fellow students in between presentations.
The 2014 IT Project Showcase featured a keynote address from Ryan Schlimpert, Class of 2002, MasterCard Vice President of Business Process Management.
After graduating summa cum laude from Westminster with a Bachelor of Arts in Computer Science, Ryan started his career as a software developer for Shelter Insurance. In 2008 he accepted a position with MasterCard as a senior engineer and moved to St. Louis. He was promoted to an architect position, then in 2011 moved into a management position as a director over one of the teams in the Business Process Management Systems (BPMS) organization. The BPMS organization is part of MasterCard's foundational architecture and is tasked with delivering and supporting solutions that help drive efficiencies via business process automation utilizing Pega (a workflow, rules engine and integrated user interface tool). After 8 months, Ryan was promoted to a senior director position over the same team but assumed additional responsibilities including managing software development, testing and production support teams. Ryan is currently serving as the vice president over the BPMS organization. While in St. Louis, Ryan completed his Master's in Information Management degree from Washington University, married in 2012, and stays busy with his 18-month-old son.
In addition to the keynote, teams of students presented their projects, including the development of a patient database system for use in health clinics in remote, disconnected, rural areas in South and Central America; "Walk-about Fitness," a software application that will allow participants of all ages to regularly schedule fitness activities at prescribed intervals; and secure coding, part of the emerging cybersecurity emphasis area of the Computer Science Department.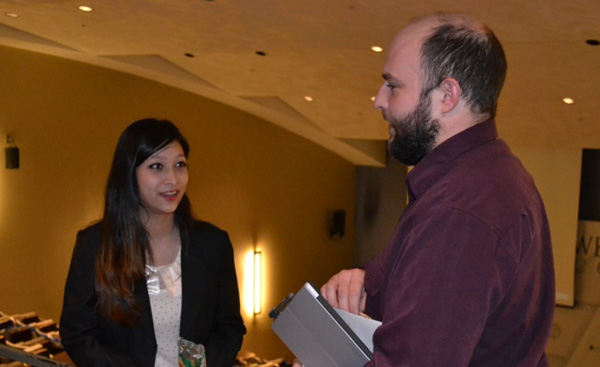 Above, Yasna Rajkarnikar '16 talks with Dr. Chris Halsey from the Westminster Chemistry Department. Dr. Halsey proposed the need for a patient database system project that Rajkarnikar's team worked on.