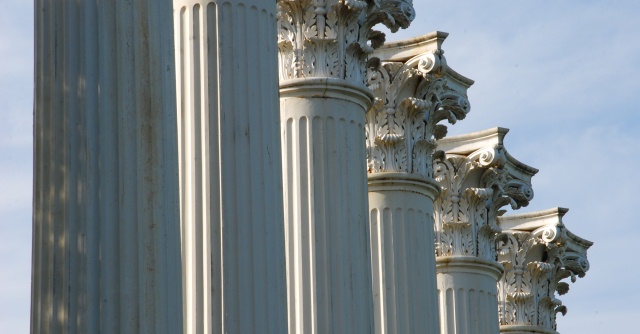 The Greek Challenge fundraising campaign concluded on April 2, 2017. The campaign began in January, when President Benjamin Akande challenged Westminster's Greek alumni to support the Westminster Fund.
Thanks to the generous support of Westminster's Greek alumni, the Greek Challenge raised a total of $1,526,014. In an email to Greek alumni, Dr. Akande said, "With this incredible gift, you have helped secure a future of continued success and significance for Westminster. You have ensured that future Westminster students will receive a life-changing liberal arts education."
Out of all of Westminster's active and former Greek chapters, alumni of Sigma Chi fraternity raised the greatest amount, with a total of $262,470. The chapter's efforts will be recognized and celebrated with a surprise presentation during Alumni Weekend, April 27-30. President Akande extended special thanks to Phi Kappa Psi, which had the highest participation rate in the challenge at 18.1%. View giving totals and participation rates by chapter below.
Westminster is grateful to all of those who gave as part of the Greek Challenge. The Westminster Fund supports all areas of campus life, including the general scholarship fund, academic incentives, leadership programs, student activities, and more.
The Greek Challenge supports the College's efforts to raise $7 million by the end of fiscal year on June 30, 2017. To date, the total stands at $4.6 million. Help Westminster meet this goal by making a gift today.
Greek Challenge totals by chapter:
| | | |
| --- | --- | --- |
| Organization | Total Raised | Alumni Participation |
| 1st Place Sigma Chi | $262,470 | 11.67% |
| 2nd Place Sigma Alpha Epsilon | $248,976 | 10.47% |
| 3rd Place Kappa Alpha Order | $201,030 | 13.41% |
| Beta Theta Pi | $198,501 | 11.4% |
| Phi Gamma Delta | $181, 457 | 11.15% |
| Phi Delta Theta | $180, 374 | 6.5% |
| Delta Tau Delta | $102, 687 | 10.54% |
| Kappa Kappa Gamma | $68, 405 | 6.56% |
| Kappa Alpha Theta | $54, 040 | 9.73% |
| Phi Kappa Psi | $27,350 | 18.1% |
| Delta Delta Delta | $725 | 4.5% |