Alumni Awards Convocation Video and Alumni Weekend Photos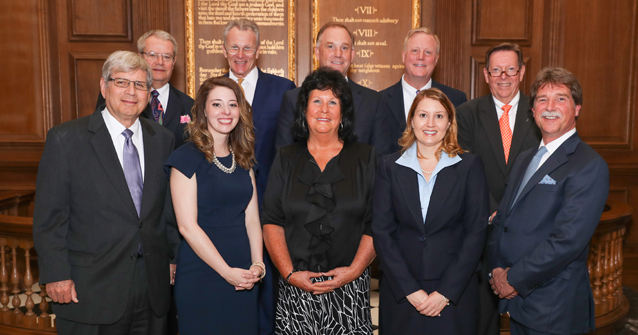 On April 29, 2017, 9 Westminster College alumni and one staff member were honored at the annual Alumni Achievement Award Convocation during Alumni Weekend.
The following eight alumni were honored for their significant accomplishments and contributions to society:
Bill Daniels '71, a Phi Gamma Delta from Quincy, IL
John Elrod '68, a Beta Theta Pi from Fayetteville, AR
Dr. Jerry Kennett '69, a Sigma Alpha Epsilon from Columbia, MO
David Mee '82, a Delta Tau Delta from Fayetteville, AR
Jeff Owens '87, a Beta Theta Pi from Peoria, IL
Mark Phariss '82, a Beta Theta Pi from Plano, TX
Andrea Long '06 from Nixa, MO
Sarah Yates Reddy '08, a Kappa Kappa Gamma from Tulsa, OK
Mike Reid '68, a Phi Gamma Delta from Jefferson City, MO, received the Jack Marshall Alumni Loyalty Award for demonstrating exceptional loyalty, commitment and dedication to the College.
In addition, Phyllis Masek, Registrar of the College, received the 2017 Remley Women's Award for her dedication as a champion for the women of Westminster.
Click on the video to watch the convocation.
View and download photos from Alumni Weekend here.