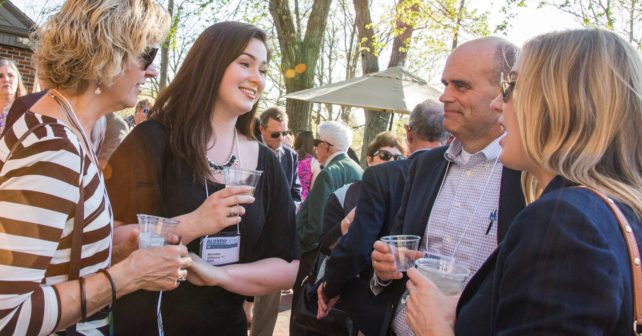 Alumni of Westminster College will have the opportunity to recapture the fun of their college years and be inspired by motivational speakers at the second annual Alumni Summer Retreat weekend June 9-11.
The theme of this year's retreat will be a prelude to Westminster's Hancock Symposium 2017, to be held in September, which is titled "Advocacy and Activism: Leading from Where You Are."
"All our alumni who attended last summer's retreat had a great time reliving their college memories in a relaxed setting with their friends and professors and reacquainting themselves with the community," says Westminster President Dr. Benjamin Ola. Akande. "The motivational speakers were truly inspiring, and we have a great line-up again this year."
Attendees will hear from three Westminster alumni who are making names for themselves as advocates:
* Derick Dailey '11, an advocate for education, racial and social justice and combatting poverty and hunger from his work for Teach for America, as a member of the Board of Directors for Bread for the World and now pursuing a law degree from Fordham University School of Law as a Stein Scholar for Ethics and Law;
* Chris Ursitti '83, chief innovation officer for GreenHouse Holdings, Inc., a green solution provider that provides energy efficiency services and products to residential and industrial customers, and chief operating officer of The Hollywood Location Company, Inc., which offers film location management services and owns and operates a motion picture studio, Los Angeles Center Studios; and
* Sarah Weir '04, who is president of the National Down Syndrome Society, the largest nonprofit in the United States dedicated to advocating for people with Down Syndrome and their families.
The retreat will include several special events on campus and in downtown Fulton for attendees to relive their days in Fulton.
Attendees will enjoy tours of the National Churchill Museum, the historic Fulton Theatre and more; a faculty panel at the Playhouse Bistro; an evening gathering at the 1851 Underground; dinner and entertainment at the President's Residence; and Sunday ecumenical worship service at the Church of St. Mary the Virgin, Aldermanbury. Westminster Associate Professor of History Dr. Mark Boulton and Westminster veterans will show a Vietnam travel course photo display and discuss their summer 2016 trip.
"We are excited about this opportunity for our alumni to return to live in the residence halls and enjoy college life and create new Westminster memories," says President Akande.  "We hope many of them will take advantage of this wonderful weekend."
The registration cost for all events, meals and housing is $250 for the weekend.  Alumni can register at http://www.westminster-mo.edu/alumni/Events/alumniretreat/default.html.
For more detailed information, contact Sarah Munns, Director of Alumni Engagement, at Sarah.Munns@westminster-mo.edu or 573-592-6050 or Dr. Carolyn Perry, Senior Vice President  and Dean of Faculty, at Carolyn.Perry@westminster-mo.edu or 573-592-5212.