Alumni Achievement: Greg Willard, '76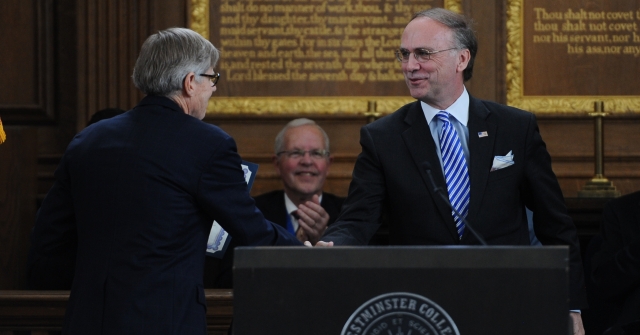 During Alumni Weekend 2014, Westminster College President George B. Forsythe (left) presented Greg Willard (right) with Westminster's Lifetime Alumni Achievement Award.
"Westminster College is steeped in tradition and a rich history of excellence, most particularly its extraordinary faculty," says Greg Willard from St. Louis, MO, Class of 1976. "The names Parrish, Williams, Schultz, Remley, Day, and countless others are more than just names on a Westminster directory – much more; they are at the lifetime core of each of us fortunate enough to have received a Westminster degree."
Willard received the Lifetime Alumni Achievement Award given at a special Alumni Honors Convocation Ceremony held April 26 during Alumni Weekend.
He is currently a partner at the Carmody MacDonald law firm where he concentrates on corporate reorganizations and restructurings. He has served as lead counsel for debtors and creditors in some of the country's largest reorganization proceedings.
Willard served as White House Staff Assistant to President Gerald Ford and currently serves as a Trustee of the Gerald R. Ford Presidential Foundation and Co-Trustee of the President Gerald R. Ford Legacy Trust.
The Lifetime Alumni Achievement Award is presented annually to alumni whose accomplishments reflect the Westminster mission and who have distinguished themselves through personal achievements, professional achievements and/or have made significant contributions to society.
Previously, Willard practiced law for over thirty years at the Bryan Cave firm where he was the youngest partner in the firm's history.
He has been named to the Best Lawyers in America for twenty-seven consecutive years and is a member of the American College of Bankruptcy.
In 1999, he helped established Westminster's William E. Parrish Academic Scholarship, which annually recognizes the recipient's outstanding integrity and academic achievement.