Alumna Gives Presentation at Stephens College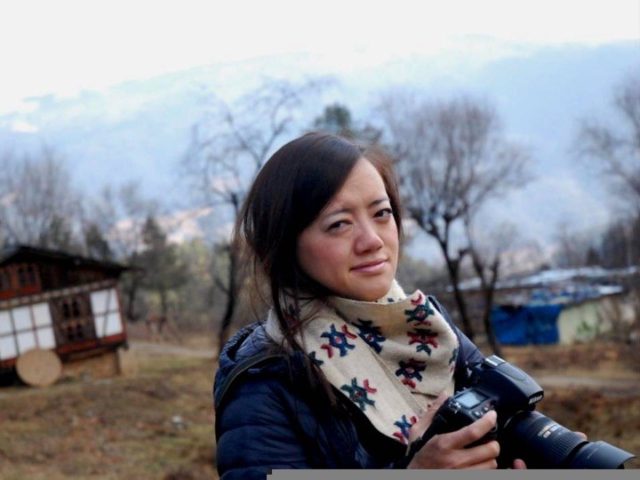 Westminster alumna Tshering Yangzom, '10, a biology major and member of Kappa Kappa Gamma from Washington, D.C., gave a presentation on the country of Bhutan, "Bhutan: Development with Values," on Oct. 23, on the Stephens College campus in Columbia, MO.
"Bhutan is a small Himalayan Kingdom undergoing a lot of changes in a short time period, but is setting an example for the rest of the world," says Tshering, who is Director of Programs and External Relations for the Bhutan Foundation. "Our developmental policies on Gross National Happiness, and our peaceful transition from an absolute monarchy to a constitutional democracy, our pristine environment, and unique culture provide a beacon of hope for the rest of the world."
The presentation spanned 400 years of Bhutan's history and explained how this isolated kingdom in the Himalayas became a modern nation and one of the world's youngest democracies.
She also discussed how the Bhutan Foundation, a small not-for-profit organization, identifies critical gaps to support the development of Bhutan.
Tshering was joined in the presentation by the President of the Bhutan Foundation Dr. Bruce W. Bunting.
A question and answer session followed the presentation moderated by Ms. Donna Marshall, a Stephens alumna who sponsors this lecture series. Ms. Marshall is a former member of the Stephen's College Board of Trustees and is a current board member of the Bhutan Foundation.
While attending Westminster College, Tshering was actively involved with the Missouri School for the Deaf and the non-governmental organization (NGO), Reading is Fundamental (RIF).
"I loved my time at Westminster College and really appreciated all our professors and peers who helped me grow as an individual," says Tshering. "It was not only about the academics, but also about the community and social life at Westminster that has enabled me and prepared me for the work that I do on a daily basis."
Following graduation, Tshering earned a master's degree in public health from George Washington University in Washington, D.C.
She has previously worked at the Jigme Dorji Wangchuck National Referral Hospital in Thimphu, Bhutan and as a journalist at a national newspaper in Bhutan.
She spent four years in McLean, VA at the Madeira School where she volunteered at local hospitals in the Washington, D.C. area and interned on Capitol Hill and with the Center for Teaching Peace.
Tshering currently volunteers for Camp Healthy Habits through a local NGO, Common Threads, in Washington, D.C.