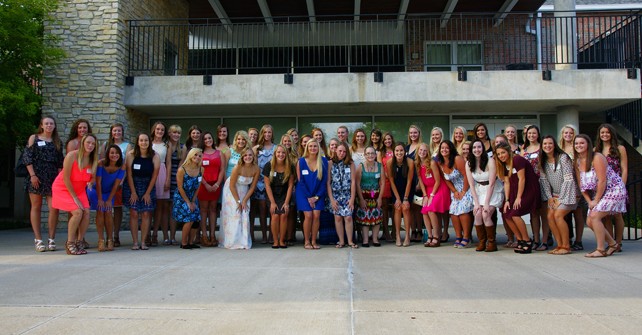 Today, March 8, is International Women's Day – a day set aside to celebrate women around the globe and call for a more inclusive and gender-equal world. It's also a day to consider a sobering thought.
 
What if there were no women – if only for a day.
 
At Westminster College, we stand beside women – wherever they are – and we show our support, our appreciation, and our respect for the indispensable role they play in every-day life.
 
Did you know…
44% of our students are women.
42% of our faculty members are women.
59% of our staff are women.
We could not achieve our Westminster College mission without these women. Also, consider a few examples of how exceptional Westminster College alumnae are impacting the world of healthcare and giving back to their alma mater:
Lana (Cross) Zerrer, MD '95 ΚΑΘ
After graduating from Westminster College, Lana completed medical school at the University of Missouri School of Medicine. She served in the U.S. Air Force Medical Corps where she achieved the rank of major. Her military experience included deployment to Kyrgyzstan in support of Operation Enduring Freedom. Dr. Zerrer is a member of the American College of Physicians and serves as Chief of Staff at the Harry S. Truman Memorial Veterans' Hospital. Having received scholarships as a Westminster student, she now gives generously back to her alma mater.
 
Elizabeth "Beth" Stubbs '00 KKΓ
Beth was honored last fall as a Business Woman of the Year finalist at the Columbia Daily Tribune Women in Business Awards. She is a pharmacist/partner at Kilgore's Medical Pharmacy, where her specialization in compounding medicine has brought the business significant growth. She earned two degrees (pre-pharmacy and political science) from Westminster and one from the University of Mississippi, along with a B.S. from the St. Louis College of Pharmacy. She also has served on the Westminster College Board of Trustees and gives generously to her alma mater.
Elizabeth Malm-Buatsi, MD '01 ΚΑΘ
After graduating from Westminster College, Elizabeth earned her medical degree from the University of Iowa in Iowa City. She then returned for her urologic residency at the University of Missouri and went on to complete a fellowship in pediatric urology at the University of Oklahoma Health Sciences Center. She specializes in minimally invasive and robotic-assisted surgeries in children at the University of Missouri School of Medicine. She currently serves on the Westminster College Board of Trustees and is recognized in The President's Club, Westminster's most prestigious annual giving society.
 
Today is a day to be thankful for all of the women in our lives…from our mothers, our sisters, our daughters, to our students, faculty, staff, and alumnae. Without these women, we would not be able to do what we do in our personal lives and at Westminster.
Today, I thank all women as we stand in solidarity for equality, dignity, and respect for all people.
– Benjamin Ola. Akande, President