Westminster Seminar: A Fun and Refreshing Approach to Student Success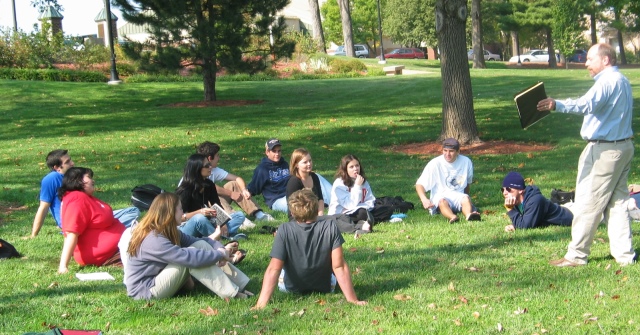 All college students hope to get off to a strong start when they begin college life.  However, Westminster College is one of the few schools that ensures  new students get that kind of support in a refreshing, fun way through the Westminster Seminar.
Westminster has high academic expectations for its students; yet many of them have not come out of high school with the research and critical thinking skills necessary to meet those expectations and on top of it, most of them are adjusting to living on their own for the first time.
This is where the Westminster Seminar steps in.  This nationally acclaimed program helps students adjust to college academically through the study of a contemporary, appealing, and unique topic.  At the same time, new students develop important connections among classmates, mentors, and faculty members.
When they enroll, new students have the opportunity to review the list of seminar topics offered for the semester and select their top five choices.  Then the students are grouped into seminar sections based on their common interests.  Transfer students are enrolled in a special transfer section designed specifically for them, depending on how much college work they have completed.
This year's seminar topics cover the waterfront of student interests.  Dynamic faculty have developed fourteen different creative and compelling classes.  Those interested in science fiction can enroll in seminars such as  "The Psychology of the Apocalypse: Zombies, Tributes, and Terminators, Oh My!"  For those students with a global, humanitarian interest, seminars such as "Religion, Races and Relationships" are a good fit. "You Are What You Eat!  An Exploration of Food and Culture" is one of the topics framed around global health issues.
Since the upcoming Hancock  Symposium focuses on the fine arts, students had their choice of several fine arts topics such as "Riotous Art: Culture, Politics, and Controversy."  Some of the other topics include "The History of the Carnival" and "There's an App for That!  Let's Get Digital in Writing."
Organized around these common student interests, all the seminar groups are integrated by common objectives.  Through active learning strategies, students learn the processes, tools, and systems for scholarly inquiry, which prepares them well for Westminster's rigorous academic environment.  In this seminar class work,  students learn to read analytically, think critically, and  communicate effectively.
Westminster Seminar also helps students evolve socially.  Outside the classroom, they participate in diverse activities such as field trips, service projects, concerts, and lectures.  Both in-class and outside class group works helps them develop a strong sense of community.
Throughout the semester, students will work closely with their seminar faculty member who also serve as their temporary academic advisor until they declare a major.  Upper-class student mentors also assist in each seminar section.  This year 40 upper-class students have assumed this role.
Dr. Linda Aulgur, Director of the Westminster Seminar, says all the seminar sections are full this year with more men in each section than women except for one group.  The number of transfer students made it necessary to fill four transfer student sections.
Westminster Seminar students will finish this first semester with the tools they need to find classroom success for the next four years and make friendships and relationships among classmates, mentors, and faculty members that they will value not just for their college career, but in some cases, for the rest of their lives.