Westminster College Named in Top 5% of Best American Colleges for the Money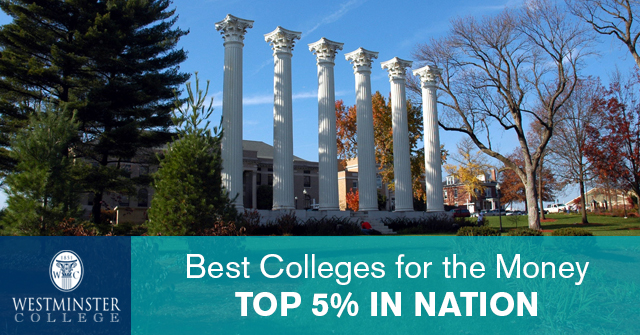 Westminster College ranks in the top 5% of best American colleges and universities for the money, according to recently released national rankings.
The data-driven national education firm, College Factual, which is in partnership with USA Today newspaper, names Westminster 35th out of all 1,215 colleges and universities ranked nationwide as Best College for the Money in 2016.
The 2016 report also names Westminster in the top 1% of all colleges and universities for most focused in the fields of biochemistry, biophysics and molecular biology and the top 5% for international studies.
College Factual evaluates all college and universities together rather than dividing them into public and private and bases their rankings more on outcomes than past reputation and acceptance rates, as many ranking services do.
"We are very pleased College Factual has determined that students receive one of the best quality educations in the nation for what they are paying," says Westminster President Dr. Benjamin Ola. Akande.  "This is good news for students and their parents who are trying to determine what college is the best choice for them and where they are going to receive the best value."
To arrive at these rankings, College Factual combines their data for academic excellence and economic value to determine which institutions will give students the best "bang for their buck."
Academic excellence is determined by a school's graduation and retention rates, student loan default rate and early and mid-career earnings of its graduates.
The average graduation rate for Westminster has averaged 67% for the past five years.  Its retention rate is 83% and three year student loan default rate 10.1% as compared to the national average of 11.8%.
As far as salaries go, the federal government calculates salaries 10 years after graduation and Westminster's average graduate salary is $41,500 as compared with the national average of $34,300.
The affordability of each college and university for their ranking purposes is determined by a formula that considers total cost to attend and the average length of time it takes students to graduate.
Some colleges that might appear to be inexpensive at first glance turn out to be not such a good value if students must spend six years completing a degree rather than four.
100% of all Westminster students receive some form of financial aid with an average student's financial aid package running approximately $22,895.
Data to determine College Factual rankings comes from a number of sources, both public and private.  The majority of the information comes from the Integrated Postsecondary Education Data System (IPEDS) from the National Center for Education Statistics, a branch of the United States Department of Education.
Based on data from Pay Scale.com, College Factual estimates the average earnings for graduates of each major at a particular college and compares those numbers to the earnings of graduates at all other colleges that offer that major.  If graduates in a particular major at a particular college are performing well, College Factual believes that information provides an important measure of the quality of education being offered at an institution.