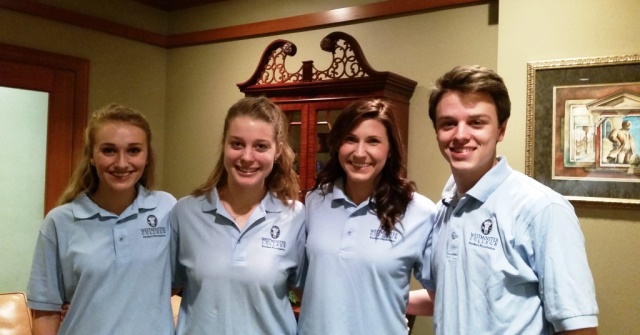 Pictured above from left to right: Shannon McCaul '18, Roberta Burns '17, Alyssa Johnson '17, and Mason Evers '19
At Westminster, Student Foundation is a student-based organization that helps introduce prospective students to Westminster by giving tours, answering questions, and giving a first-hand, real-life look at the College.
"We have members who participate in various organizations, clubs, and sports on campus. Each student is passionate about Westminster for different reasons, and we like having that diversity in the group," says newly elected president, Alyssa Johnson '17 (Midlothian, IL). "As an organization we want to share our stories with prospective students and be able to show off the college we are so proud to attend."
Alyssa, a business administration major and member of the women's softball team, says she strives to help prospective students realize that Westminster offers an array of opportunities for them.
"If there is one thing I can tell prospective students about Westminster, it would be that the possibilities are endless here," she says. "If you want to play a sport, join a club, become a part of a Greek organization, or become a leader on campus while receiving a great education, I can tell you first hand that if you have the drive to do so, you can do all of these and more."
Please help Westminster in congratulating the new Student Foundation officers:
President Alyssa Johnson '17
VP of Tours Roberta Burns '17
VP of Events Mason Evers '19
VP Logistics Coordinator Shannon McCaul '18