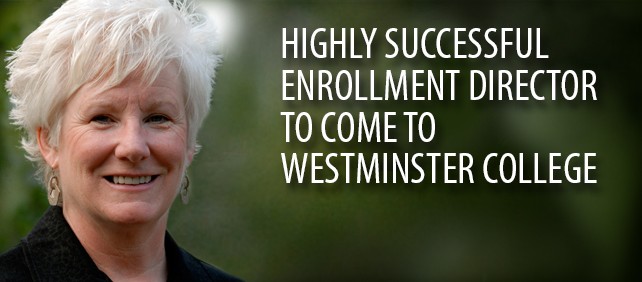 Dr. Stephanie Miller, who has built an impressive record of enrollment success at Southwest Baptist University (SBU) in Bolivar, MO, has been appointed the new Vice President and Dean for Enrollment Management at Westminster College.
"I am very honored and excited to be joining the Westminster College community," says Dr. Miller.  "I have been so impressed by the staff, faculty, students and alumni I met through the search process and I am looking forward to collaborating with them as we build on the College's strengths and momentum."
During her ten years as Vice President for Enrollment Management at SBU, Dr. Miller developed and implemented the University Success Center, which increased freshman retention rate by 8% through integrating advisement, university seminar courses and orientation activities.
She developed and implemented a comprehensive enrollment management program and strategic planning approach to enrollment management, utilizing data and current research for decision-making and goal-setting, a restructuring in financial aid and a focus on quality service, cooperation and collaboration.  Her efforts have resulted in significant increases in the size and quality of incoming classes.
She also developed a university-wide integrated marketing plan and led the implementation of the redesign of the university website.
Dr. Miller championed the need for an honors program at the University and served on the faculty committee to develop its requirements and protocols.
During her 30-year career in higher education, she has served in such other capacities as a physical education faculty member, a head volleyball coach and an athletics administrator.
She holds a B.S. degree in physical education from Southwest Baptist College, an M.Ed. with an emphasis in physical education from Drury University and a Ed.D. in Higher Education from Nova Southeastern University.
"Westminster will continue to be nationally recognized for the distinctive educational and leadership programs that prepare students for life and success," says Dr. Miller.  "My focus will be to provide a recruitment and retention plan that supports and enhances the mission and strategic plan of one of the finest liberal arts colleges in the nation."
Dr. Miller replaces George Wolf, who left Westminster in June.
"Dr. Miller brings a depth and breadth of enrollment success to Westminster College that makes her an ideal choice to lead our student recruitment and retention efforts going forward," says Westminster President Dr. George B. Forsythe.  "We look forward to the exciting new approach she brings to us."