Life in the Residence Halls, Q&A with Stefanie Eggleston and Sydney Sexton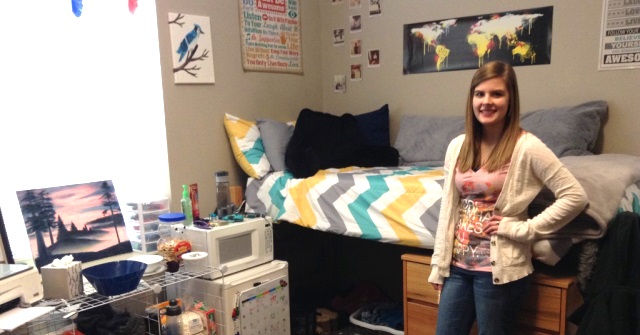 Above, Stefanie Eggleston '18 (Maysville HS/Maysville, MO), an English and Business Communications major, shares what her residence hall room looks like.
Below, roommates Stefanie Eggleston '18 and Sydney Sexton '18 share their views of, and tips for, living in the freshmen residence halls. We started the conversation by getting Stefanie's side of things first.
Is there anything you needed for your room that you didn't think about before you moved in?
A white board! It's great for writing homework assignments I need to do or for friends to write notes on.  It keeps me a lot more organized if I have all my assignments for the week written down where I can see everything I need to do.
What's the best thing you brought with you, or bought, for your room?
I have a shoe hanger that can hang over a door, and it is so great for keeping my shoes organized and not just in piles that can be tripped over.
What do you appreciate about residence life?
I love living so close to my friends!  I know that if I need anything, they're just a few steps away.  Living with seven other girls can be frustrating at times, but we really do all stick by each other if someone's having a bad day.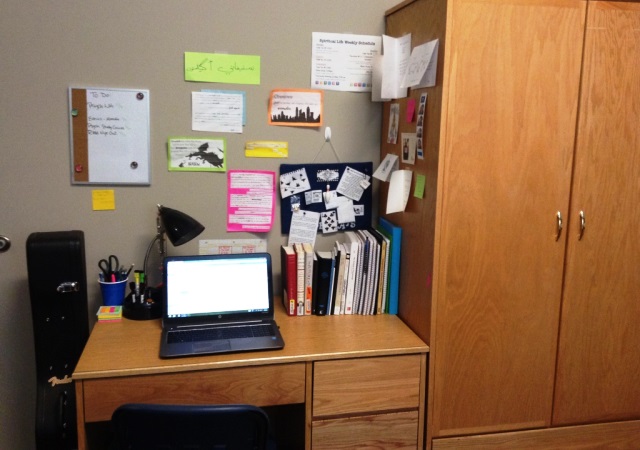 After getting Stefanie's input, we talked to her roommate Sydney.
What didn't you need, or haven't used, that you brought with you at the beginning of the year?
I bought a really nice alarm that I could play music through that I now only use it for the alarm clock because I play music through my computer. Also, I did not send home my boxes with my parents after move-in day, so I had 5 giant boxes with nothing in them taking up space. I also brought way too many shoes! I would suggest bringing the basics!
Advice on working with your new roommate to plan your room?
Talk to your roommate about what you can both provide for the room before move-in day! My roommate and I both ended up bringing microwaves, so I took mine home. We share her microwave, my printer, and we both have a refrigerator. Be creative with your room set-up. If you want to sleep against the wall, set up your bed first and then move everything to fit around it. Also, don't be afraid to rearrange throughout the year if you don't like your current set-up!