Westmo Student Beats Out Grad Students, Wins Award for Research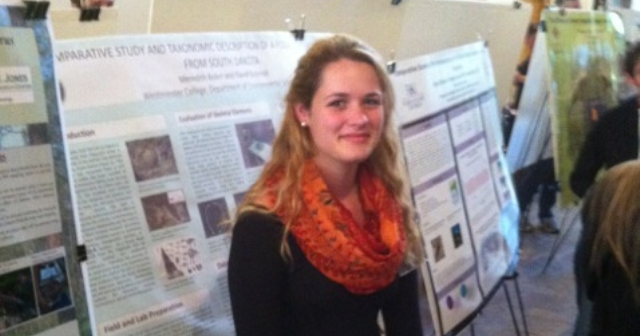 Meredith Bolen, a graduate of Saint Agnes Academy in Houston, Texas, will graduate in 2016 with majors in Elementary Education, Middle School Education, and Secondary Education with a minor in General History. She is currently the President of the Education Association, Secretary for Kappa Delta Pi, Vice President of Recruitment and Correspondence Coordinator for Alpha Gamma Delta, and a member of ECoS, and Alpha Lambda Delta.
Meredith Bolen '16 took 3rd place honors for her research at the 36th Annual Gopher Tortoise Council Conference in Albany, Georgia. She presented her research titled Comparative Study and Taxonomic Description of a Fossil Tortoise Shell from South Dakota and competed against 30+ students (all but three were graduate students) from around the country.  Bolen was the only undergraduate student to place in the competition.
Bolen has been conducting independent studies in geology and paleontology at Westminster since fall of 2013.
"I think this award means that we are part of an institution, which although small, produces students that are capable of competing against major schools nationwide," says Dr. David Schmidt, her research advisor.
Schmidt also says it has been a very special experience to watch Bolen grow and develop as a researcher and student. He hopes her recent award is a sign of things to come, and that her recognition will motivate and inspire all Westminster students to go above and beyond the classroom.
This is Bolen's second award she has received for presenting her research.  She also took 1st place at the Missouri Academy of Science in April of 2014.  In both competitions where Bolen has placed, she competed against both upperclassmen and/or graduate students.
After graduating from Westminster, Bolen would like to teach abroad. She would also like to one day return to the United States to get her master's degree in, most likely, paleontology.