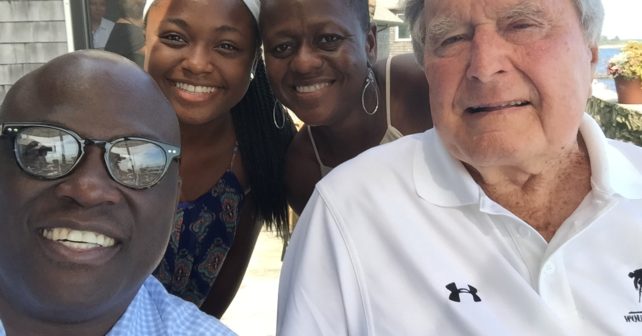 "If we do not turn our back on the world, but remain engaged; if we resist the insular temptations of isolationism and protectionism; if we remain confident of our values, true to our ideals and resist paralyzing self-doubt…we can begin to build that world of harmony, and, let me add, prosperity that we dreamed of when we fought the Second World War so many years ago."
Those words were uttered in a Green Lecture on the campus of Westminster College thirty years ago by then Vice President George H.W. Bush who would go on to become our 41st President.
The Westminster connection came full circle on Sunday afternoon, July 24, when Westminster President Akande, wife Bola, and daughter Reni had an hour and a half lunch with George and Barbara Bush at the former President's summer residence on Walker's Point in Kennebunkport, Maine.
They were accompanied by the President's cousin, former U.S. Ambassador George (Bert) Walker, and his wife Carol and joined by President Bush's sister Nancy Ellis and daughter Dorothy.
"I was seated to the right of the President outside on the patio deck overlooking the bay with Bola and the President's sister across from me," says President Akande.  "We exchanged stories of family sports and fast boats.  The President was very engaging and asked me questions about growing up in Nigeria."
President Akande confirmed that former First Lady Barbara Bush's unequaled sense of humor was in full force.  "She had us laughing all through lunch," said President Akande.
The luncheon menu consisted of tacos with Klondike bars for dessert.
During lunch, President Bush asked for an update on Westminster and recalled details of his visit.
President Bush received a taste of President Akande's humor when the Westminster President suggested that if a movie was ever made from the Bush biography, Destiny and Power, he would like to play the role of President Bush.
"President Bush found my comments very funny indeed, but he was gracious enough not to reply one way or another," recalls President Akande.
Summarizing the luncheon meeting between the two Presidents, President Akande said:  "The food was excellent and the company was wonderful."