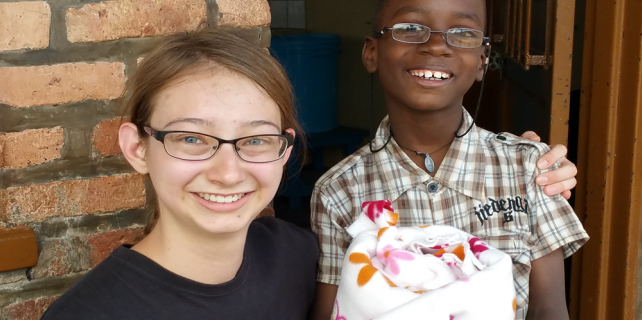 Kaitlin Rosholm '17 is working in Africa this summer with the group of Westminster volunteers and Humanity for Children. After visiting orphanages, remote villages, clinics, and bomas in Tanzania, she wishes she could do more.
"There were about 3 boys at the orphanage who have experienced extreme hearing loss. The mother superior asked if we could help in some way. Hopefully when we get back to the States, we can start something. Here in Tanzania, I wish I had more blankets to give. For the past 2 days we have been traveling to different very remote villages, clinics, and bomas in Maasai-land talking to traditional birthing attendants and young mothers."
The group is in the planning stages of their project, which will help support safe births for mothers in need.
Read Kaitlin's full blog post about her experience.
Feature photo above: Kaitlin Rosholm with hearing impaired youth whom she was able to gift a blanket.