Save the Dates for the 2017 Hancock Symposium: Advocacy & Activism, Sept. 20-21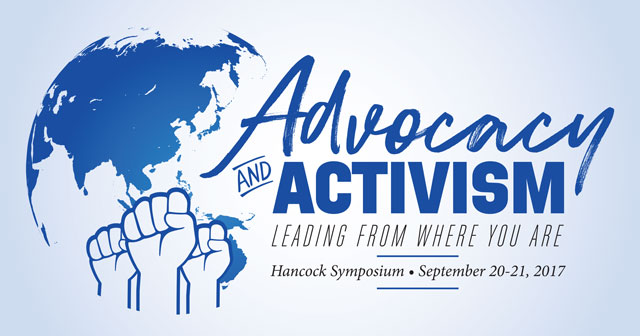 On Wednesday, Sept. 20 and Thursday, Sept. 21, members of the Westminster community and experts from all over the world will join forces for the 12th annual 2017 Hancock Symposium, one of the College's signature academic events. Since 2006, the Hancock Symposium has challenged students through intellectual discourse in two engaging days of lectures, panel discussions, and presentations on one particular subject of global interest.
With the theme of "Advocacy and Activism: Leading from Where You Are," this year's Symposium will invite participants to consider how they can be agents for change in defining the next century and encourage them to fulfill their potential as global leaders.
Speakers for the 2017 Hancock Symposium include the following:
Katharine Kayhoe, recognized by Time magazine as one of the 100 Most Influential People in the world, is an atmospheric scientist studying climate change, a lead author for the U.S. National Climate Assessments, and a professor at Texas Tech University and director of the Climate Science Center at the school.
Aisha Fukushima, a public speaker, educator, singer, and leader of the "RAPtivism" project, a global hip hop project spanning four continents and 10 countries that challenges apathy, ignorance, and oppression.
Fereshteh Forough, an Afghan refugee born in Iran during the USSR's invasion of Afghanistan, who founded the first coding school for girls in Afghanistan in 2015 to empower them to add unique value to their communities and inspire them to strive for independence.
In addition to hosting plenary speakers, the Symposium will have additional speakers, breakout sessions and book signings.
Topics to be covered include leadership for climate change, religion, politics, refugees, reproductive rights, anti-violence against women and girls, Native American rights, human trafficking, and digital citizenship.
Visit symposium.westminster-mo.edu to learn about speakers, schedule of events and more.
Follow #WCSymposium on social media for the latest updates and conversation about the event.