Q&A with Psychology Major Melissa Buehner '15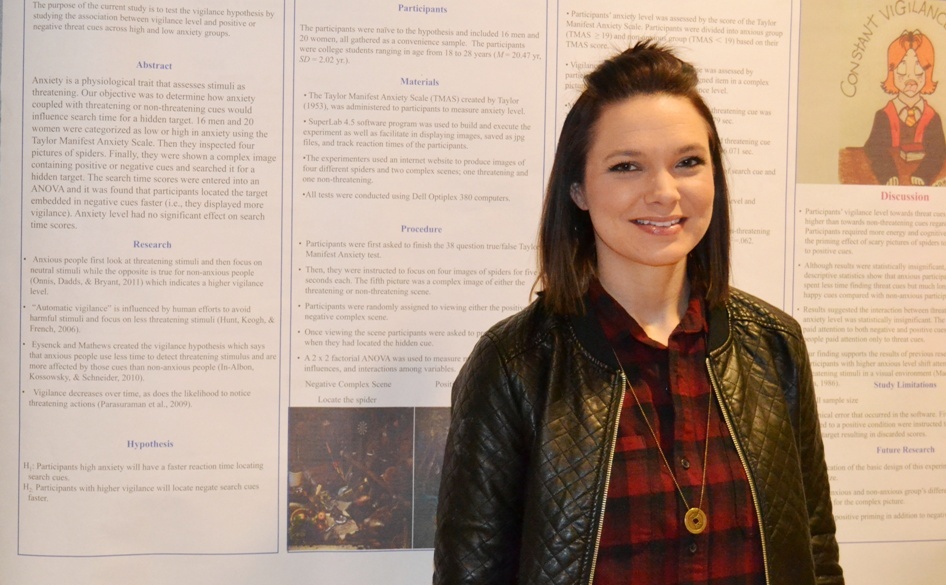 Do you ever wonder how the human mind works? So does Melissa Buehner, Westminster Class of'2015. As a psychology major at Westminster College, she is finding many opportunities to learn about what makes the human mind so … human. From creating her own studies on campus to internships, Melissa is getting the experience she needs to hone her interest in psychology.
Melissa will be the first Westminster student to participate in an internship with the Fulton State Hospital next spring. She recently won second place at the Missouri Undergraduate Psychology Conference for her study, "Effects of Negative Priming When Viewing Pictures: Association between Anxiety and Vigilance."
How did you end up studying at Westminster?
I grew up in Gilbert, AZ but I currently live in Columbia, MO. I transferred to Westminster from Moberly Area Community College. Westminster's psychology program was impressive and I received a decent scholarship so I felt confident about my decision.
Why did you choose your major?
I am a psychology major. I have always been fascinated with human behavior and what makes people do what they do.
Why did you pursue the new Fulton State Hospital internship?
I was approached to pilot this internship. I'm still trying to narrow my area of concentration since psychology is such a broad field. I love doing research but perhaps this internship opportunity will give me direction towards the more clinical or forensic side of psychology.
What are you excited about in your upcoming internship?
I'm super excited about working with graduate students and professionals in an applied setting and creating an established relationship with Fulton State Hospital.
For more information about Westminster's Psychology program, visit our webpage.