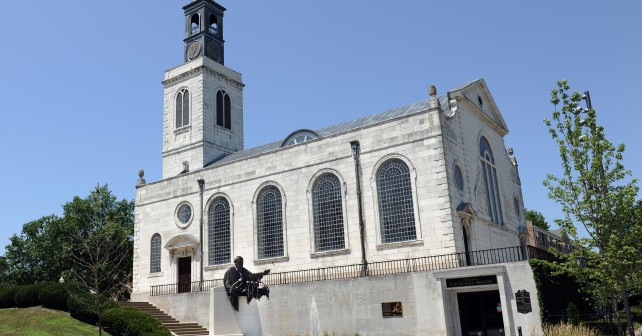 A distinguished Westminster Professor Emeritus of Religious Studies, Dr. Bill Young, will deliver the fourth annual C.S. Lewis Legacy Lecture Thursday, Feb. 25 on campus.
Dr. Young's lecture will be held at 11 a. m. in the Church of St. Mary the Virgin, Aldermanbury.  In his lecture, "We Are All Related:  "The Relevance of Native American Spiritual Traditions," he will share his reflections on the relevance of Native American traditions for religious faith today.
"It will be a professional pleasure and a personal delight to welcome Dr. Bill Young back to campus," says Dr. Cliff Cain, Harrod-C.S. Lewis Professor of Religious Studies and Chair of the Department of Classics, Philosophy, and Religious Studies.  "His service to Westminster College for three and a half decades was exemplary, and he contributed more than can ever fully be acknowledged."
Young's lecture will be based on thoughts from his 2006 book, The Relevance of Native American Spiritual Traditions.
 "The history and the worldview of America's indigenous peoples, the Native Americans, need to be acknowledged, learned, and applied, especially at a time when the plundering and polluting of the earth are so rampant and when the effects of climate change are so apparent and ominous," says Dr. Cain.
Dr. Young taught at Westminster for 35 years, retiring in 2010.  During his teaching tenure, he served as Chaplain of the College for most of his career.  He was the Founding Director of the Churchill Academy at Westminster and served for two years as Assistant Dean of Faculty.
He also taught courses at the University of Missouri and the Missouri Scholars Academy.
Before coming to Westminster, he taught at Williamette University in Salem, OR.
Dr. Young has won a number of awards, including the Missouri Governor's Award for Excellence in Teaching.
His publications include The World's Religions:  Worldviews and Contemporary Issues and John Tortes "Chief Meyers:  A Baseball Biography.  He has co-authored with Christian E. Hauer An Introduction to the Bible:  A Journey into Three Worlds and A Comprehensive History of the London Church and Parish of St. Mary the Virgin, Aldermanbury.
Dr. Young is an ordained Presbyterian minister, member of the Board of Trustees of the Daniel Boone Regional Library and a member of the Society for American Baseball Research.
He holds a Bachelor of Arts degree from the University of Tulsa, a Master's degree in divinity from McCormick Theological Seminary and a Ph.D. from University of Iowa.
The Harrod-C.S. Lewis Legacy Lecture and Professorship of Religious Studies were endowed in the fall of 2012 by James W. "Jim" Harrod, Westminster Class of 1957, and his wife Sharon from Horseshoe Bay, TX.  The Harrod-C.S. Lewis Professor of Religious Studies, researches, writes and teaches on the history, current condition and future of religion.
The Harrod-C.S. Lewis Lectures are intended to honor the legacy of the late British theologian by engaging the campus community and the surrounding community in topics and issues that were important to him and that stimulated his writing.