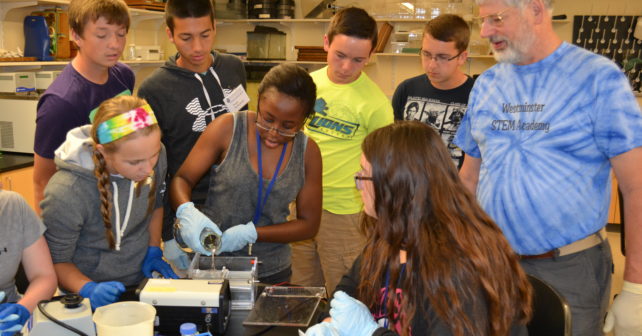 High school students have an exciting opportunity to explore how physics, environmental science, mathematics, and chemistry impact our daily lives and the entire world through hands-on research work at the Westminster STEM Academy July 23-27.
Students at the seminar will engage in project-based learning in nine labs over five days in field ecology, biochemistry, genetics, physics, chemistry, math, paleontology, computer design, and biology, receiving real-world training with professionals in their fields.
They will build and launch rockets, conduct field work at a 711-acre nature reserve, try their hand at 3D printing, explore the human body with an anatomical review of cadavers, learn how drones are used at archeological dig sites to unearth the mysteries of ancient life, and many more activities during this residential academy.
The evenings will be filled with fun and creative activities that everyone at the seminar can enjoy.
"In the Westminster STEM Academy, students are scientists engage in the essentials of scientific inquiry such as asking questions, seeking answers, developing procedures, collecting data, transforming data into meaningful explanations, and connecting experiences to everyday life," says Westminster Education Chair Dr. James Concannon, who is the director of the academy. "Westminster wants to provide high school students with a sense of what a rigorous college learning experience feels like."
Incoming high school freshmen through seniors who graduated in 2017 are eligible to attend the STEM Academy.
The all-inclusive registration fee of $500 includes all curriculum materials, food, housing, and tuition for the session. Completing the STEM Academy can also end in participants earning one-hour of college credit.
"The Westminster STEM Academy is an excellent opportunity for high school students to interact one-on-one with some of Westminster's top STEM faculty," says Dr. Concannon. "The Academy provides students with a problem-based, collaborative, content-rich, hands-on learning environment and gives students a head start on their college careers."
High school science, technology, engineering, and math students who are interested in being a part of the STEM Academy can receive more information about how to enroll from Dr. Jim Concannon at 573-592-5293 or STEMAcademy@westminster-mo.edu.
Listen to a Westminster Waves interview on the STEM Academy with Dr. Concannon here.