President Forsythe Talks Liberal Arts and Leadership in Local Newspaper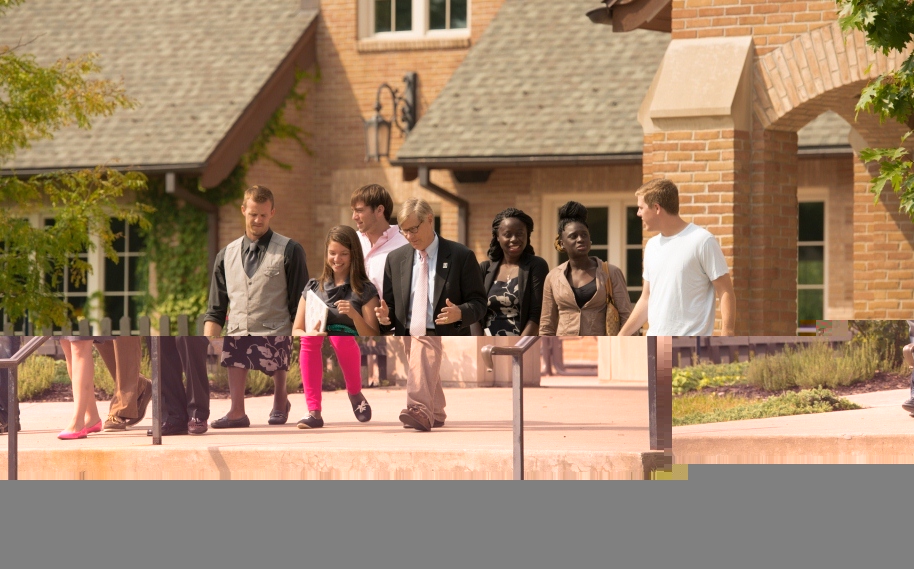 Westminster College President Barney Forsythe weighed in on the higher education discussion in the Jefferson City News Tribune. President Forsythe commented that liberal arts were founded on the principle of "preparing engaged citizen leaders."
""The historical roots of of the liberal arts college in America is providing a broad education in the arts and sciences, so that graduates can engage — and in fact lead — society. That's certainly the case at Westminister College," said Forsythe.
Is Education Really Making the Grade?
Kris Hilgedick
Jefferson City News Tribune
10/13/2013
Americans today live with an unease that the educational system they have traditionally relied upon to prepare students for economic success is missing the mark.
"Are college freshmen well prepared?" Bill Dagett, founder and chairman of the International Center for Leadership in Education, asked an assembly of hundreds of Missouri school board members and superintendents last week. "If you ask high school teachers, 89 percent say 'yes.' If you ask college professors, 26 percent say 'yes.'"
Recognized nationally for his ability to move education systems toward more rigorous learning, Daggett sounded a clarion call.
In his remarks, he alleged that progressives and conservatives — when they bicker about topics like Common Core standards and teacher evaluation programs — are basically rearranging the deck chairs aboard a sinking ship at a time when American students are failing to prepare themselves for success in the workforce.
Daggett said issues like Common Core are only a means to an end. "The issue is college and career ready," he exhorted.
Why America struggles
Even as he touted American schools as the "finest education system in the world with no parallel," he lamented nearly 52 percent of students enrolled in two-year colleges and 20 percent of students enrolled in four-year colleges need remediation.
He attributed that to the fact that America attempts to educate all of its children, not only those deemed bright and amenable.
"We're on this unique trip in this country to try to address excellence and equity at the exact same moment," he said. "It's not politically correct to say it, but excellence and equity are in conflict. I can get you to excellence in a hurry … come with me to my next trip to China. Let me pick and choose who I'm going to educate. I just don't want to live in that kind of world with my family."
You, again? (We thought you moved out.)
Even for the graduates who successfully crossed the stage and seized their diplomas, their problems aren't over.
Daggett argued far too many recent grads are saddled with outstanding loans and failing to thrive financially with meaningful employment. Many still rely on parental support.
"What happened?" he cried. "These are the kids we bragged about on graduation night!"
In a quieter tone, he said: "America changed … and we're not tracking it."
Quoting Condoleeza Rice, he noted that 70 percent of young people today are no longer eligible for military service, either because they didn't graduate, failed the admissions exam, use drugs, are incarcerated or are out of shape.
When talking to a room full of business managers, Daggett said they told him: "If they're not ready for the military, what makes you think they are ready for the workforce?"
Half of employers have trouble finding qualified recent college graduates, according to the Chronicle of Higher Education.
He said 70 to 80 percent of young people are headed toward public assistance.
"It's unsustainable," he said. "We've got to raise the standards in our schools."
He said demographics aren't helping the situation.
He noted the U.S. birth rate has waned, meaning fewer young people are available to join the workforce, and people are living longer, meaning the U.S. is home to more elderly relying on social services. In 1950, the U.S. was home to more children under age 5 than the total population of people over age 55, he said.
Today, there are more people over age 55 than under age 21 — and many of them are headed to public assistance.
"I'll say it again … it's unsustainable," he said. "The demographics are skewed against us. The financial issues are going to become more severe, not less. Our only hope is to have the best education system in the world."
Tradition vs. choice
For years, American high schools have sent students down binary paths: Either gearing them up for college or relying on vo-tech education to pave their way to the workplace.
But Jefferson City is on the cusp of changing that paradigm.
Starting next autumn, ninth-grade students will enroll in one of seven academies, each with a different career focus.
Myron Graber, director of secondary education for JCPS, said the academies are meant to offer students more choices.
"Right now, high school is pretty much one-size-fits-all. We do have the Nichols Career Center, but there are limited seats available there," he said.
Graber said, with academies, both college-bound and tech-ed students will have a better idea of what the real world is like.
He fears high school education has become isolated from the world of work, in part because schools have tried to address a steady demand of accountability measures. Although those won't be diminished with academies in place, the way teachers view their work could change.
"We're just giving (education) a different lens so that students can actually connect and see what the real world of work is like," he said.
Graber said the teams that have worked on organizing the academies have pulled together ideas from three basic sources to create the Jefferson City academy model. Those places include: the Silicon Valley-based "New Tech" schools that use project-based learning to make lessons relevant; Kansas City's CAPS program which has teased out meaningful relationships with the business community to drive curriculum; and a Houston-based school that is a "career and tech center on steroids," Graber said.
"That's part of the power of our model," he added. "We've tried to take the best of what we've seen around the country."
Part of the thinking behind these developments is the recognition among educational and business leaders that people generally need a more-complete skill set to be successful. For example, a welder might need the soft skills to communicate clearly with a customer; a journalist needs the technical skills to manage the IT demands of his or her job.
Blue collar is the new white collar
Daggett noted that the most-rigorous reading standards aren't found in the liberal arts or physical sciences, but in the blue-collar programs where people must interpret technical manuals. (He joked most Americans probably haven't changed their car clocks from daylight savings time because they don't like to read manuals.)
"Blue collar workers have higher reading requirements than white collar workers," he told the roomful of school leaders. "Why? Technology."
But if that binary path at the high school level is no longer clear-cut, what choices should students and parents make.
At this juncture, many families are having second thoughts about taking on debt for a four-year university degree at a time when many two-year institutions are positioning themselves as a way for students to prepare for specific — relatively high-paying, but somewhat precarious — niches in manufacturing.
In Jefferson City, students begin preparing for fields like welding, auto repair and construction at Nichols Career Center.
"I picked building trades because my dad is a mechanic. It's what I grew up with; it's what I'm used to," said Cole Franklin, a 16-year-old junior.
Even at Nichols, the curriculum is in transition as more and more teachers in the building work to incorporate math lessons into the traditional hands-on curriculum. It's a way of making the material relevant.
Franklin — a kid who hates being stuck in a classroom but loves using the power tools in the shop — said learning math in that manner makes it more meaningful.
"You actually get to do it hands on. It's not just on a worksheet," he said.
Traditionally, the higher-level math concepts have been the bailiwick of the college-bound.
That's changing as more people realize students from across the spectrum won't be successful unless they have some of the other skills — problem solving — employers are looking for.
Like many other Nichols students, Franklin is planning on attending school at Linn State Technical College.
Linn State meets the marketplace
For years, Linn State has worked closely with manufacturers and business leaders to figure out the kinds of skills employers are looking for so the college can tailor their programming to fit those marketplace niches.
But the school also tries to emphasize the importance of a broader skill set.
"I believe strongly in general education," said LSTC President Donald Claycomb. "If our students — regardless of what they major in — are going to be competitive in the world, then general education is an important part of that."
The result has been high-paying wages for the people who secure those skills and get hired in their field. For example, electric powerline installers and repairers earned a mean annual salary in 2012 of $64,140. People who repair heating, cooling and refrigeration systems earn $46,000. Drafters earn $49,000, according to the Bureau of Labor Statistics.
"When you look at those wages … it's fairly impressive as to what a student can do," Claycomb added.
Primarily, Linn State is in the business of providing students with associates of applied science degrees. The two-year program requires students to spend approximately a quarter of their time on general education classes and 75 percent of their time learning a technical trade.
He said the biggest impediment Linn State students have to success is "lack of skills in mathematics and communication."
"It's required to become a successful technician," he said.
Once they leave Linn State, their average debt is about $9,124.
"That's a manageable student debt," Claycomb said.
In comparison, about 65 percent of Missouri four-year college students graduated with debt, borrowing an average of $23,200.
Claycomb is a believer in education of all kinds.
He believes it's possible — especially with the flexibility of evening and online courses — for students to pick up a technical skills either before or after they tackle a liberal arts degree.
"A student might pick up a certificate in welding and work part-time in order to afford a liberal arts education," he said, "which allows him or her to move into leadership at a company because they'll become better at communication and be a more well-rounded person."
"Pericles was a sheepherder before he was a great philosopher. In other words, he learned how to make a living," he said.
Liberal arts hone leadership
Technical schools might be awakening to the need to provide a more well-rounded student. But liberal arts institutions are seeking ways to provide technical learning for their graduates.
For years, a solid liberal arts college degree was a common-sense solution for students who wanted to prepare themselves for corporate life and community leadership.
"The history of language arts is the history of preparing engaged citizen leaders," said Westminster College President Barney Forsythe. "The historical roots of of the liberal arts college in America is providing a broad education in the arts and sciences, so that graduates can engage — and in fact lead — society. That's certainly the case at Westminister College."
He said the emphasis always has been, and continues to be, critical thinking, lifelong learning, civic engagement and community service, values and ethics, leadership, effective communication, teamwork, and the ability and willingness to learn.
When talking to parents, he cites a Council of Independent Colleges study called "Making the Case" that argues in favor of the continued strength of a private liberal arts degree.
He added the Association of American Colleges and Universities recently surveyed employers and business leaders to determine what they require from bachelor's degree graduates. A willingness to learn was a prized asset.
He said: "They say, and it's documented in the literature, that 'If we have a highly qualified, well-educated workforce, we can prepare them technically for whatever they have to do in whatever walk of life they are in.' That's what businesses are telling us they want."
Forsythe believes a quality liberal arts experience — teaching the humanities, social sciences, physical sciences and mathematics — imparts both "breadth and depth."
But even classic liberal arts colleges are finding ways to instill more technical learning into the curriculum and he noted Westminster's graduates are encouraged to develop a depth of technical knowledge in their area of interest.
"At Westminster, we're fond of talking about a 'practical' liberal arts education. We try to help students connect with the 'Big Ideas' they are learning about to the world in which they are living so that ideas can be translated into action," he explained.
The college offers professional and pre-professional programs in business and education. The pre-health professions program — which has one of the few human cadaver labs — makes it possible for Westminster's students to move on to medical, dental and pharmacy schools. The college is also adding an Introduction to Engineering Design program.
But these technical disciplines are delivered with a liberal arts-and-science pedagogy that focuses on critical thinking.
"Students write, speak, debate and take on the big issues," he said.
To provide Westminster students with the narrower skill sets demanded by the marketplace, the college has a forged dual-degree program with other institutions, such as the Goldfarb School of Nursing and Washington University in St. Louis and Missouri University of Science and Technology in Rolla. He said many students come to Westminster for three years in order to build the base they'll use in the next two years of their learning curve.
He agrees some people do ask him: "What can you do with an English or philosophy degree?"
"We continue to offer (those majors.) But they are connected to the big, real-world question that all of us, as citizens, have to answer," he said.
He noted many of those grads go on to law school or graduate school.
He noted that English majors are trained, practicably, to become journalists. History majors prepare graduates for jobs in museums, the law profession, politics and governmental service.
But he noted that the Westminter's emphasis on "co-curricular," or student life, activities is almost equally critical because of the opportunities for leadership and discipline they offer. "We're trying to weave these tightly together," Forsythe said.
Conversation about academies
Claycomb sees advantages in the academy's approach that Jefferson City is undertaking; Forsythe's opinion was nuanced.
"I think it has a lot of merit," Claycomb said.
He used the field of medicine as a case example. He noted both a student hoping to become a doctor, as well as a student wanting to be a licensed practical nurse, would need to learn some common skills.
"The teachers would emphasize what was most helpful to that student, based on that particular student's needs and abilities," Claycomb suggested. "It doesn't mean they aren't going to take the basic courses."
Forsythe noted, philosophically, he's opposed to over-specialization early in life.
"That's one of our problems," he said. "I worry in American society we're robbing children of their childhood. All their play is mediated by adults. It's certainly happening in athletics.
"But that's not a critique of academies," he qualified.
"I don't know that very many 17-year-olds know what their passion is or have fully developed a sense of what their talents are," he said. "And so the liberal arts college provides a great space for them to discover that and go off and be successful."
He added the academies present many benefits.
"To the extent that young people are allowed to explore, by moving from academy to academy, that's a good thing," he said.
Full Article on News Tribune website.