Education Major Spotlight with Megan Fitzpatrick '16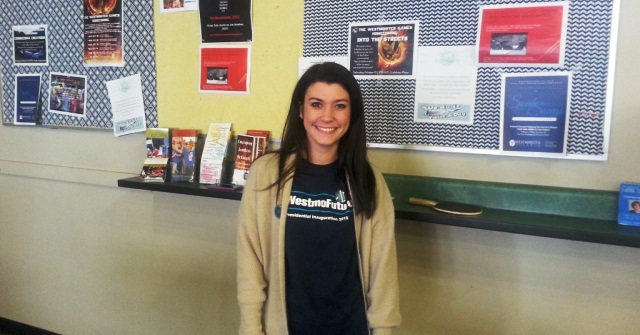 It can be hard picking a major, so to give some insight on what it is like to major in Education, we asked Megan Fitzpatrick '16 (above) some questions about her experience as an Education major. Megan is a graduate of of Rosary High School in Batavia, Illinois.
Why did you pick this major?
I decided to major in education because I've known I wanted to become a teacher since I was in 8th grade. When I visited Westminster my junior and senior year of high school, I expressed that I was interested in becoming a middle school science teacher. The education department made sure to talk to me on all of my visits and really sold the program to me. Their dedication really pushed me to declare my major first semester freshman year.
 What do you plan to do after graduating?
I plan on (hopefully!) getting a job as a middle school science teacher in the suburbs of Saint Louis. In the years following graduation, I want to pursue a master's degree in administration and hope to one day be a principal.
How has Westminster's professors and courses prepared you to succeed in this career?
I believe the amount of actual experience I have had in the classroom through Westminster will help me be successful in an Education career. Westminster's Education Department places students in local schools for observation during their freshman year. This opportunity really showed me how much I wanted to become an educator, specifically at the middle school level. My professors put me with host teachers who they knew I would learn from and get along with. Aside from in-the-classroom experience, my coursework has also proved to be incredibly beneficial. My "Teaching Science" and "Middle School Methods" courses were very eye-opening and relatable. I know that when I have a classroom of my own I will be referencing the notes, textbooks, and activities I used in those classes. 
Who is your favorite professor and why?
Wow, this is a tough question. I'm not trying to cop-out, but I really couldn't pick just one. Every single professor in the education department has impacted my Westminster experience in some way. Each professor has shaped me in some way or another, whether it was the content knowledge they taught me in their class or the endless advice I received from them during office hours. They dedicate so much of their time to every student who wants to become an educator; they are all very selfless. It is my hope to one day be as committed and enthusiastic as the professors who make up our remarkable education department.
 How has student teaching helped you?
My field experience has helped me grow so much over the past four years. I'm a pretty outgoing person, but teaching makes me nervous at times. By having the opportunity (since freshman year!), to be in the local classrooms, I have gained so much more confidence in myself as a teacher. I plan to student teach this upcoming spring at New Bloomfield Middle School and I know that my experience will help shape my future classroom teaching style. It will be the first time I can use all of the resources and knowledge I've been given these past four years.
Learn more about majoring in Education at Westminster.