Connecting with Digital Blue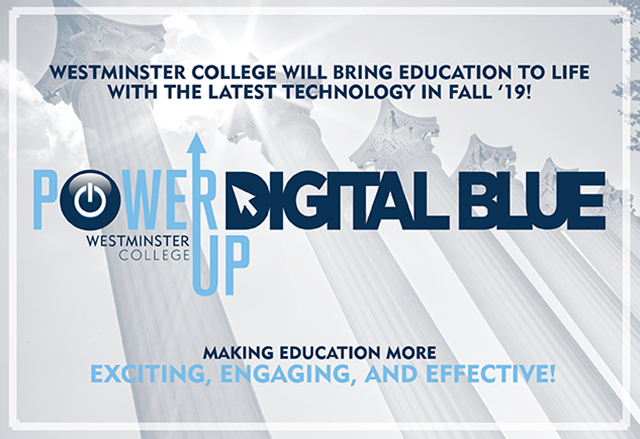 By Dr. Barri Bumgarner
In today's educational world, an oft-quoted buzzword, for better or for worse, is what it means to "connect." Whether it's social media, a hashtag movement, or advice for educators starting a school year, to connect is essential in breaking down barriers and staying relevant.
Over the course of the last several years at Westminster College, an initiative emerged that would prepare 21st century learners for the digital demands of the professional world. Today, Digital Blue is born. This 1:1 initiative (1 device for every single faculty/staff/student) will bring Blue Jays into the forefront of what it means to be a digital citizen. Using technology to enhance what we already do exceptionally well at Westminster will make the Blue Jay experience more engaging and more relevant as we prepare them for the digital world.
Digital Blue will allow faculty, staff, and students to use a common device to be connected with our activities, to improve our Canvas transition, and enhance best practices in our classrooms. The iPad can also improve clubs, sports, and other groups on campus, as the constant connection eliminates the need for people to be in the same place at the same time or to explore and study real-time issues. One need only watch the sidelines of an NFL game to see how coaches and players use a device to remedy real-time, real-world experiences. While moving the college forward into the digital world, having iPads will allow the college to break down walls and make teaching and learning richer and more authentic.
Being a 1:1 campus does not mean the school throws out paper, pitches every printers, and tosses textbooks. The reality is, quality technology amplifies what already works. While having devices for everyone does drastically reduce printing costs, there is still a time and place for paper and pen. But imagine having the opportunity to use Apple Pencil to iPad! The potential for ELL folks, distance students, students with learning differences are too many to quantify, all while supplying the tools and platform necessary to create virtually anything.
The sky is the limit for Westminster Blue Jays with Digital Blue. Faculty and staff can soar with their new devices this fall and receive continued training and support to integrate tools and apps into their curriculum. And then on the horizon next fall, students will complete the process when they are slated to receive their iPads.
By being connected, IRL (in real life) or in a digital space, Westminster College can bridge the divide between digital natives and digital immigrants. Faculty, staff, and students all have so much to learn from one another. Why not let Digital Blue help every Blue Jay see the power in that purpose?