Churchill's Great-Grandson and Prominent Churchill Authors Gather for Symposium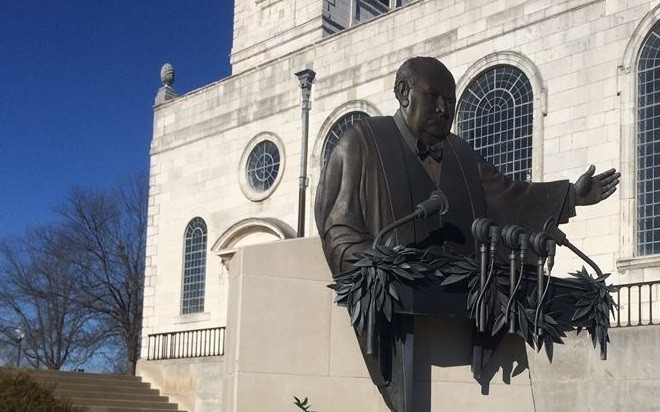 Winston Churchill's great-grandson and five other prominent Churchill authors as well as a famous Churchill dramatist will appear at "The Multifaceted Life and Legacy of Sir Winston Churchill," a Symposium being held Feb. 12-13, at the Mildred Lane Kemper Art Museum on the campus of Washington University in St. Louis, MO.  The Symposium is sponsored by the National Churchill Museum in Fulton, MO.
"To have so many distinguished authorities on Churchill at one event is a rare opportunity for those who are interested in this remarkable statesman to receive some great insights into his life and achievements," says Dr. Jim Williams, Executive Director of the National Churchill Museum.  "We hope many people will plan to spend the day with us for this fascinating look at various aspects of Churchill's life and legacy."
The Symposium will begin with a reception and show by Randy Otto as Sir Winston Churchill from 5:30 p.m.-7:30 p.m., Friday, Feb. 12, at the Kemper Museum.
Following drinks and hors d'oeuvres, Otto will perform as Churchill in the one-man show "Painting as a Pastime: Banishing the Black Dog" and take questions.  John Ross Truman, grandnephew of President Harry S. Truman, has said: "an evening spent with Randy Otto is as close as you will come to an evening with the colossus of the age:  Winston Churchill."
Tickets for the event are $50 per person and must be purchased by Tuesday, February 9.  Those wishing to attend can contact Meda Young at 573-592-5602 or can register online at
https://events.membersolutions.com/event_register.asp?content_id=61488.
The following day Symposium presentations will run from 9:30 a.m.-4:30 p.m. Authors holding sessions include:
Jonathan Sandys, Churchill's great-grandson and son of Julian Sandys, co-author of God and Churchill: How the Great Leader's Sense of Divine Destiny Changed His Troubled World and Offers Hope for Ours;
Warren Docktor from the University of Cambridge who wrote Winston Churchill and the Islamic World;
Larry Arnn, President of Hillsdale College, author of Churchill's Trial: Winston Churchill and the Salvation of Free Government;
James W. Muller, Political Science Professor at the University of Alaska in Anchorage, who edited a new edition of Churchill's River War: An Historical Account of the Reconquest of the Soudan;
Michael Neiberg, History Professor at the U.S. Army War College, author of Potsdam: The End of World War II and the Remaking of Europe; and
Simon Read, award-winning former newspaper reporter who wrote Winston Churchill Reporting: Adventures of a Young War Correspondent.
Books by the presenters are available at discounted prices and will be signed by the authors but must be purchased in advance.  Books will not be for sale at the Symposium.
Deadline for book purchases and Symposium registration is Friday, February 5.  The cost to attend the Symposium is $25, which covers lunch in the Museum Atrium.  Attendees may register by calling Meda Young at 573-592-5602 or by registering online at https://events.membersolutions.com/event_register.asp?content_id=61488.
These events will be the culmination of "The Paintings of Sir Winston Churchill," he most significant collection of Churchill paintings ever exhibited in North America, which opened at the Kemper Art Museum November 13, 2015, and will close February 14, 2016.
For general information about the exhibition, which will also give directions and parking information for the show and Symposium, visit kemperartmuseum.wustl.edu/Churchill.
The performance by Randy Otto is underwritten by a grant from the Allen P. and Josephine B. Green Foundation as part of the painting exhibition's educational program.  The Symposium is a program of the Sandra L. and Monroe E. Trout Professorship of Churchill Studies at the National Churchill Museum on the campus of Westminster College in Fulton, MO.