Capital Internship Program: Now Accepting Applications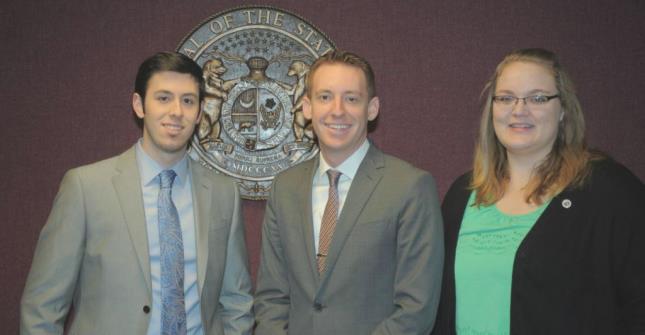 Westminster alumni Kari Lenz '14 (right) and Brad Dimarino (left) pictured with Secretary of State Jason Kander (middle)
Interested in politics? Westminster College's Capital Internship Program allows select students in their junior or senior year to spend their spring semester at the state capitol in Jefferson City. Open to students of all majors, the Capital Internship Program allows for students of all backgrounds to get hands-on experience working with Missouri legislature.
Participating students have the opportunity to work with legislators in a field they are passionate about while learning about Missouri politics. Throughout the internship, students improve communication skills while developing their network of connections. These connections may act as a great "foot-in-the-door" for obtaining future careers in politics.
"Not only did the Capitol Internship Program help me obtain credits and knowledge to graduate from Westminster, but it helped me gain real experience in the field I dream of going into," says Kari Lenz '14, an alumna of the program. "Thanks to these connections, experience, and knowledge that I gained during my semester in the Missouri State Capitol, I was able to get another internship in Washington, D.C. and now am using my connections and experience to land a job as a Missouri lobbyist."
The Capital Internship Program consist of three parts:
An introductory course during the winter semester.
Hands-on internship at the capitol during the spring semester.
A for-credit seminar provided by Westminster alumnus and former Missouri Senate President Pro Tem Michael Gibbons '81.
For students interested in applying, contact Abigail Manwell at the Center for Career Development by emailing her at Abigial.Manwell@westminster-mo.edu
The application deadline is October 7 at 11:59 p.m. Interviews will be held the week of October 13.
For information on other internships, please click here.