Bio in Belize Alumni Reunion Date Set for 2015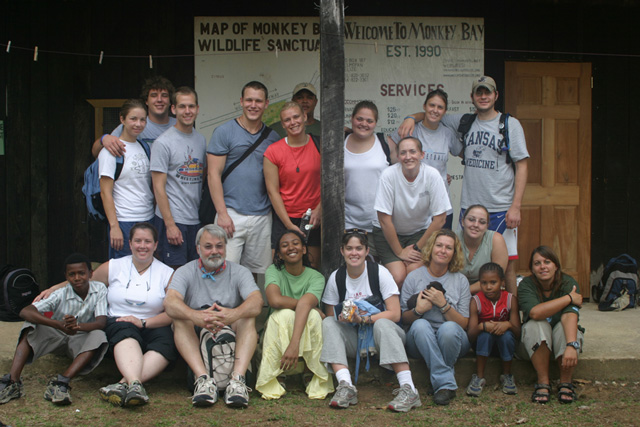 Above, participants in the 2005 Westminster Bio in Belize trip.
Dr. Mike Amspoker, professor of biology and Cameron Day Chair at Westminster, has been taking students on the adventure of a lifetime. Since 1992, Dr. Amspoker has chaperoned 11 "Bio in Belize" international trips  with 164 Westminster students.
In July 2015, Dr. Amspoker will take another trip to Belize, this time specifically for Bio in Belize veterans and their families.
This reunion will be a great opportunity to revisit the amazing Belize experience. The date of the trip is set for July 8-17, 2015. Cost of the trip per person will be $1,675 (airfare not included). The open enrollment period will begin September 15, 2014 and end February 15, 2015. A $100 deposit is due upon registration in order to reserve space. The trip is limited to 30 participants.
If you are a Westminster alum who visited Belize with Dr. Amspoker and want to relive the amazing experience next summer, please contact him at mike.amspoker@westminster-mo.edu.
"It's as if Belize loves Westminster so much that it wants to give us the best experience we can get. It is easy to say that this trip beats out last (2013) year's … I would do this trip over and over again. I can understand now why you love going back all the years. There's always something new that comes up every trip and that's what makes it so exciting." — Alex DuMontier, Class of 2014
For more information about Westminster's Biology program, visit our webpage. You can also learn more about Westminster's diverse selection of study abroad programs at our Office of Study Abroad and Off Campus Programs.