Little Rock Junior Awarded Bill Emerson Fellowship for D.C. Summer Internship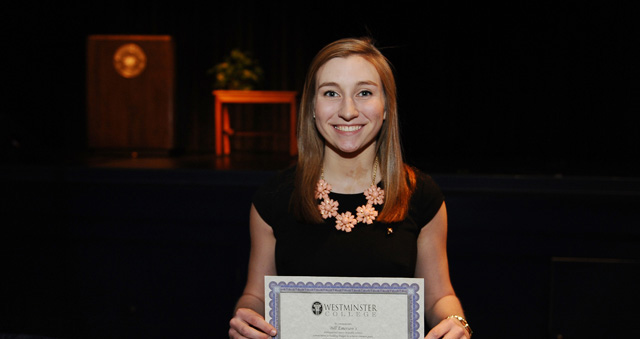 Claire Gibby, a junior at Westminster College from Little Rock, AR, is spending her summer interning in Washington, D.C. under one of the College's most prestigious fellowship programs named in memory of the late Missouri Congressman Bill Emerson.
Gibby, the daughter of Mike and Tracey Gibby, is working in a Congressional internship.
"The Emersons have given me the opportunity to pursue my dreams in the nation's capital," says Gibby.  "The knowledge and exposure I will gain in D.C. this summer will stay with me for a lifetime."
Gibby's many activities at Westminster include the Skulls of Seven, Blue Blazers Investment Committee, Kappa Alpha Theta Sorority, the 2015 Hancock Symposium Planning Committee, cross country and mentor.
In addition to the Emerson Fellowship, her other achievements and honors include the Bragdon Scholarship, Order of the Sword and the Shield, 2014 SLIAC Cross Country All-Conference honors,  and the Alpha Lambda Delta Honor Society.
The Emerson Fellowship commemorates the contributions and personal qualities of Congressman Bill Emerson, Westminster Class of '59, who contributed significantly to the shaping of American public policy over five decades.
 This important fellowship is an annual competitive award available only to Westminster College students that provides a unique opportunity to learn about the political system through direct exposure to public and private sector roles in public policy development.
The Emerson Fellowship is chosen by a national selection committee composed of members and friends of the Emerson family, former Fellows and select Westminster alumni.
"I am so grateful for this incredible experience and I want to thank the faculty and staff at Westminster as well as my family for helping me make this trip possible," says Gibby.